Flowering Shrubs
Shrubs are an important part of any landscape and can be used as a focal point in the landscape or great accents to trees or hardscapes. When considering what kind of shrubs you want for your landscape make sure you consider flowering shrubs that compliment your area. Whether you have a shady spot or full sun there is a flowering shrub for you. Most flowering shrubs need at least 4 hours of sunlight to produce blooms and therefore there are many more flowering shrubs that like full sun than there are shade loving bloomers. Here are a few of the best flowering shrubs  for both areas in your landscape.
Flowers in the Full Sun!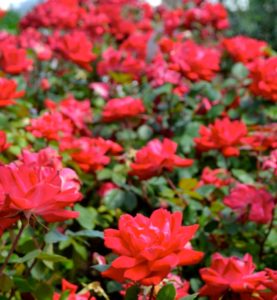 Knock Out Roses are one of the most popular selection for full sun areas as they are continuous bloomers from early spring through fall. These low maintenance shrubs are hardy to the hot Texas Summers and love sunny spots. Knock Out rose bushes will grow to be about 4-6′ tall and 4-6′ wide if left untrimmed. Just sit back and enjoy these bloomers through three of the four seasons. See our complete line of rose bushes.
Shop Knock Out Roses!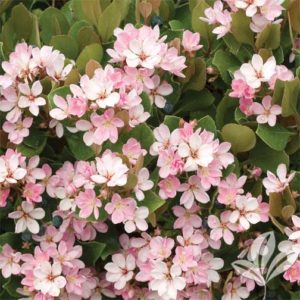 The Indian Hawthorn shrub is a staple in Texas landscapes. Being one of the hardiest shrubs available these shrubs are covered in blooms from mid to late spring and are available in white or pink blooms. There are three varieties of Indian Hawthorn most common in Texas and those are the Clara, blooming white and growing to about 3′ tall, Pink Lady, blooming pink and growing to almost 5′ tall, and Pinkie, blooming pink and growing only 3′ tall.
Shop Indian Hawthorn!
Drift roses are another excellent continuous blooming rose but with a dwarf growth habit that won't get any taller than 2-3′.  This plant does all the work for you, no dead-heading required. The strikingly bright colors available are impressive planted walkways, this rose likes to show off. Choose from various bright colors including pink, red, coral, popcorn white, sweet, and apricot. See our complete line of rose bushes.
Shop Drift Roses!
Chinese Fringe Flower is a relative of witch hazel and thrives in warmer climates (hardiness zones 7-10). This evergreen shrub blooms in the spring and is known to sometimes re-bloom throughout the year. Chinese Fringe Flower is easy to grow, even for beginners, because of its low-maintenance growing requirements.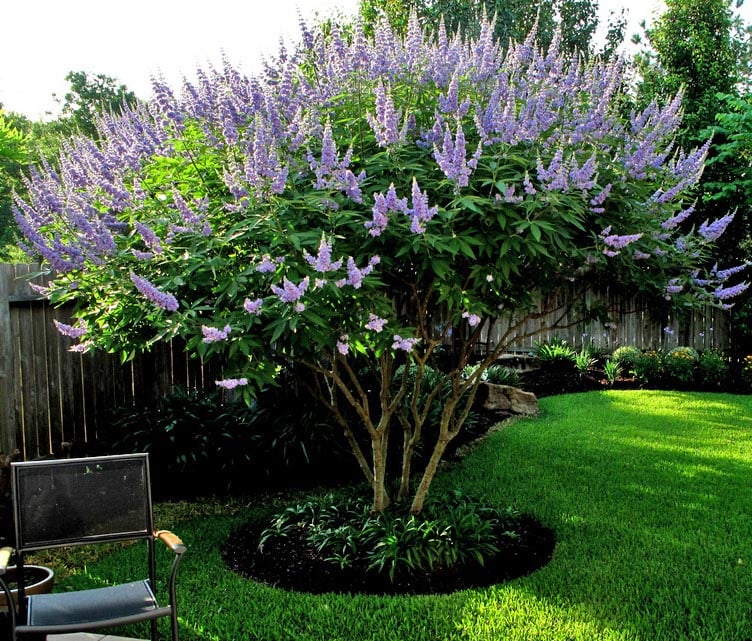 The Vitex, also known as Chaste Tree, is a deciduous shrub or small tree that is widely used in North Texas. Vitex has a summertime display of purple blooms from mid-summer until early fall. Removing the spent flower spikes after the initial blooms have died will initiate another round of blooms. Vitex grows best in full sun and in well-drained soils.
Shop Now!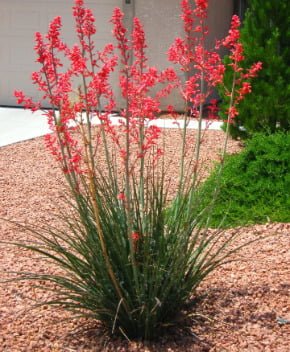 Red yucca is a favorite in many commercial and residential landscapes in North Texas because it's an evergreen and low-maintenance plant with a beautifully showy color of red. Its dark green long, thin leaves rise from the base providing an unusual look to the landscape.
Shade Bloomers
Azaleas are great bloomers in shady spots with the Encore variety re-blooming in every season except Winter. Azaleas need at least 4-6 hours of sunlight in the morning hours for the best blooming results and make sure to plant these with acidic soil amendments as our native soil is too alkaline for these shrubs to perform as desired.
Shop Encore Azaleas!
Hydrangea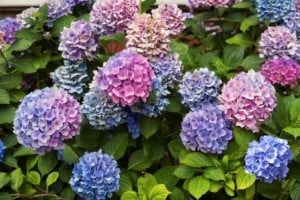 Hydrangeas are a great shady bloomer with large clusters of pink flowers that can turn from pink to blue based on the pH level of the soil. Certain varieties. Hydrangeas are great under large trees or porches to brighten up dark spots in your landscape. These broadleaf shrubs are deciduous in the wintertime so be prepared for them to take the winter season off and drop their leaves.
Shop Hydrangea!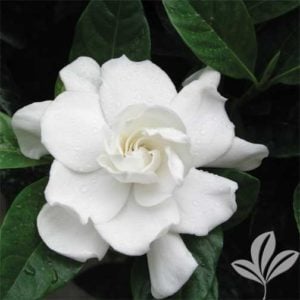 Gardenias are known for their fragrant white blooms about the size of a half-dollar. They bloom in the early spring and sometimes again in early summer or mid-fall with a strong aroma and bright white flowers. These shrubs are available in dwarf varieties such as the Veitchi staying about 3′ tall or larger varieties such as the August Beauty reaching 5-6′ tall and wide. Most commonly gardenias have broad glossy leaves but there are several varieties such as the frost proof and dwarf radican with smaller narrow leaves.
Shop Gardenias!