Premier Nursery – Tree Nursery
Trees for Sale in the Fort Worth Area
Shop Premier Nursery for your landscape tree needs. We offer a wide variety of trees and more large trees than most tree nurseries.
Visit one of our convenient plant nursery locations, or call us to discuss your tree requirements.
1501 AIRPORT FWY
Euless, TX
817.685.0932
Directions
Evergreen shade tree growing to 40-foot-tall and spreading 60-80 foot wide. Live Oaks adapt well to most soil conditions. Long-lived tree growing up to 2 feet annually.
Shop Live Oak Trees
Deciduous shade tree is known for its beautiful fall color. Grows 40-60-foot-tall and 40-60 foot wide. Red oaks adapt to most soils and can grow up 2 feet per year.
Shop Red Oak Trees
A large deciduous shade tree grows 80-foot-tall and 50 foot wide. Adapt to most soil type and can grow upwards of 1 to 3 feet per year.
Shop Burr Oak Trees
Our varieties of magnolia trees vary in height from 20-feet tall to 50-feet tall. Our magnolias offer a variety of shade, privacy, and charm for any yard! They also do best in well-drained soils. Prefers acidic soil but will adapt to most soil types and can grow upwards of 1-2 feet per year.
Shop Magnolia Trees
Medium size deciduous shade tree, growing 30- 40 feet tall and wide. Tolerates most soil conditions and is drought tolerant. Known for its beautiful fall color. Annual growth of 2.5 feet.
Shop Chinese Pistache Trees
Pyramid-shaped deciduous tree. Grows 50-70 feet tall and 25 feet wide at maturity. Adapts well to wet or dry conditions. Annual growth rate 1-2 feet per year.
Shop Bald Cypress Trees
Deciduous early spring-blooming shade tree. Grows 30 feet tall and wide. Known for its bright pink blooms in early spring. Does well in sun or shade. Annual growth of 12-18 inches.
Shop Redbud Trees
Deciduous flowering tree. Bright white, hot pink, lavender, or red flowers that bloom late spring through summer. Crepe Myrtles are drought tolerant with an average height of 25 feet tall and 20 feet wide. The annual growth rate is between 1 and 3 feet.
Shop Crepe Myrtle Trees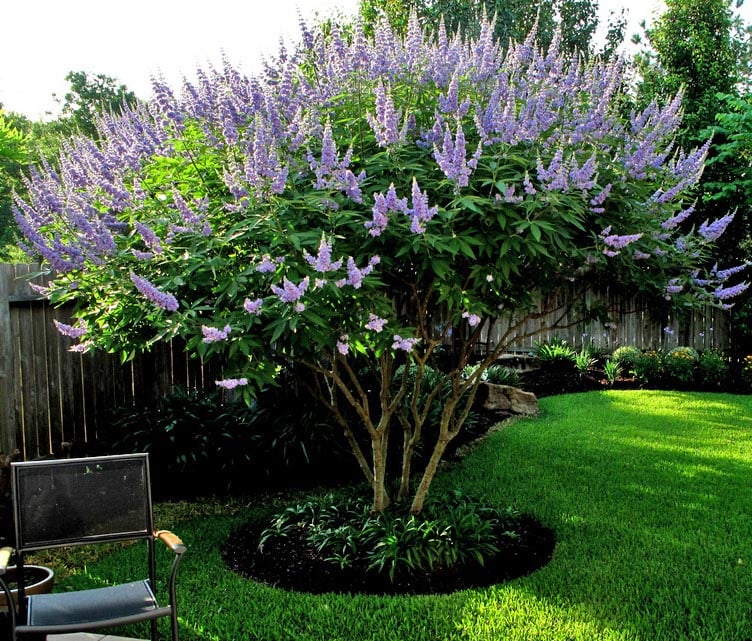 The Vitex, also known as Chaste Tree, is a deciduous shrub or small tree that is widely used in North Texas. Vitex has a summertime display of purple blooms from mid-summer until early fall. Removing the spent flower spikes after the initial blooms have died will initiate another round of blooms. Vitex grows best in full sun and in well-drained soils.
Shop Vitex Trees