North Texas summers bring extended heat, drought, and less than ideal conditions for plant growth making it especially challenging for most plants to produce blooms.  However, here in North Texas, we have a few perennial favorites that withstand the tough conditions and put on showy displays of blooms through the summer months. Plants such as Knock Out Roses, Crepe Myrtles, Oleanders, Periwinkles, and Pentas thrive and bloom all summer long. Colorful blooms are usually associated with plants such as annuals, perennials, trees, and tropicals, but did you know that there is a wide assortment of flowering shrubs that give just as much color? These flowering shrubs are more inclined to thrive in the heat and withstand the drought conditions to provide color to your landscape throughout the summer!
Gardening in North Texas can be an adventure! Nobody's yard has the same ratio of sun and shade so a little knowledge goes a long way when it comes to deciding what plants to buy. Will the plants you choose be hardy enough to withstand 100 plus degree temperatures? Familiarizing ourselves with the best plants for our location is key to their Texas summer survival. Listed below are some summer-blooming shrubs that we recommend to keep your landscape colorful this summer!
Texas Sage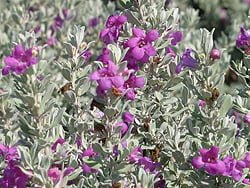 (Leucophyllum frutescens)
Texas sage is a tough Native Texas Plant with purple to lavender blooms in spring, summer, and fall. It can be used as a hedge or in containers as well as mass plantings. Choose a sunny location for the best growth and bloom production. Plant 3-4 feet apart to allow room to grow and spread. Fertilize with slow-release fertilizers once or twice a year. Texas Sage is slow-growing, prune carefully to prevent ugly, open growth. Texas Sage tends to have a naturally rounded growth habit, but tip prune for a compact full look and to further control its shape. This plant is native to desert regions and is very heat and drought tolerant. Choose from standard and compact varieties.
Red Yucca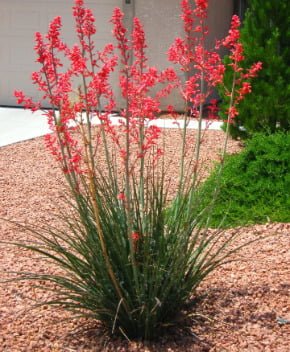 (Hesperaloe parviflora)
Red yucca is a favorite in many commercial and residential landscapes in North Texas. Its dark green long, thin leaves rise from the base providing an unusual look to the landscape. With tall spikes of pink to red bell-shaped flowers that last from May through October. It is extremely tough; it tolerates drought, extreme heat and cold; needing little or no irrigation once established. Red Yucca is not a true yucca; unlike yucca the leaves are not spine-tipped. Red yucca is a Texas Native Plant. Grows 3-5 feet tall and 2-4 feet wide.
Oleander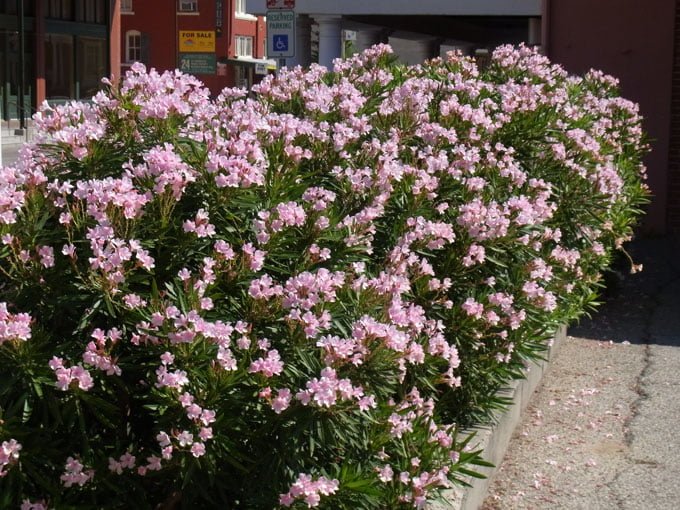 (Nerium oleander)
Oleander is an evergreen shrub growing 8-10 feet tall and spreading 4-6 feet wide. It performs and blooms best planted in a sunny location. Blooms are fragrant and come in vibrant red, white, pink, and salmon colors. Oleanders are repeat bloomers and bloom straight through the summer from late spring through fall.  This plant has average water needs so make sure not to overwater! This plant is also deer resistant, but all parts of this plant are poisonous if ingested so be sure to make considerations for pets and small children.
Vitex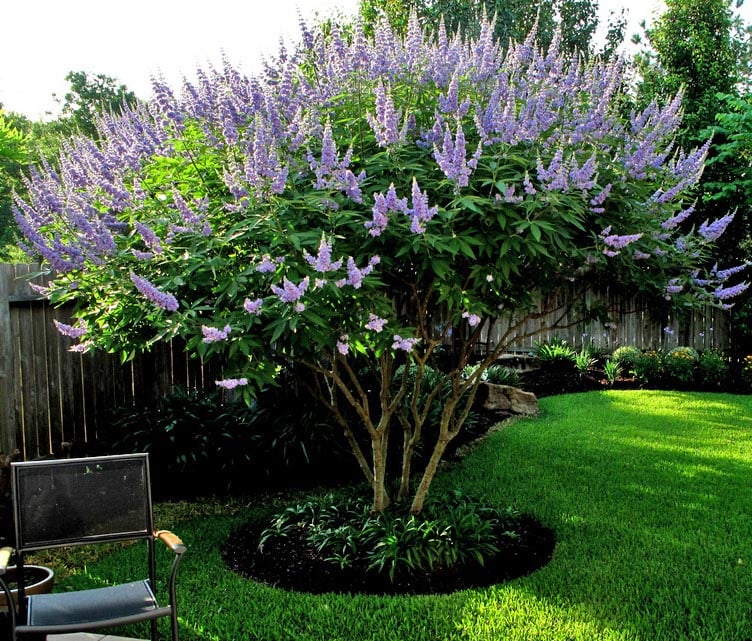 (Vitex agnus-castu)
The Vitex, also known as Chaste Tree is a deciduous shrub or small tree that is widely used in North Texas. Vitex has a summertime display of purple blooms from mid-summer until early fall. Removing the spent flower spikes after the initial blooms have died will initiate another round of blooms. Vitex grows best in full sun and in well-drained soils. It will tolerate drought and various other soil types, but growth and flowering will be limited. In moist soils, growth can be rapid, but blooms will not be as vibrant in color. Vitex trees require heat for the best flowering. Vitex does best planted in full to part sun. Grows 12-15 feet tall. Deer resistant.
Fringe Flower
Loropetalum chinense var. rubrum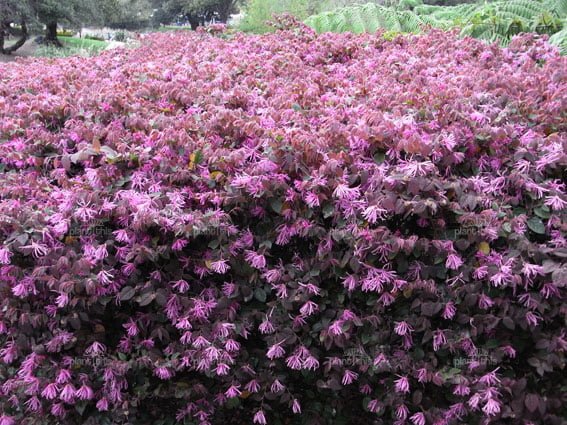 Fringe Flower is an evergreen shrub that ranges in heights from 1-2 feet tall and as high as 6 to 10 feet depending on the variety. This plant blooms from mid-March through April and sporadically through the rest of the season. There are multiple varieties of this plant each with its own unique qualities. Fringe Flower gets its name for its delicate pink fringe-like blooms. This plant displays deep burgundy to purple foliage throughout the summer months. This plant is native to China and Japan. Plant in full to part sun for the best foliage and bloom display! Fringe Flower is typically a pest and disease-free but root rot can be an issue in poorly drained soil.
Nana Nandina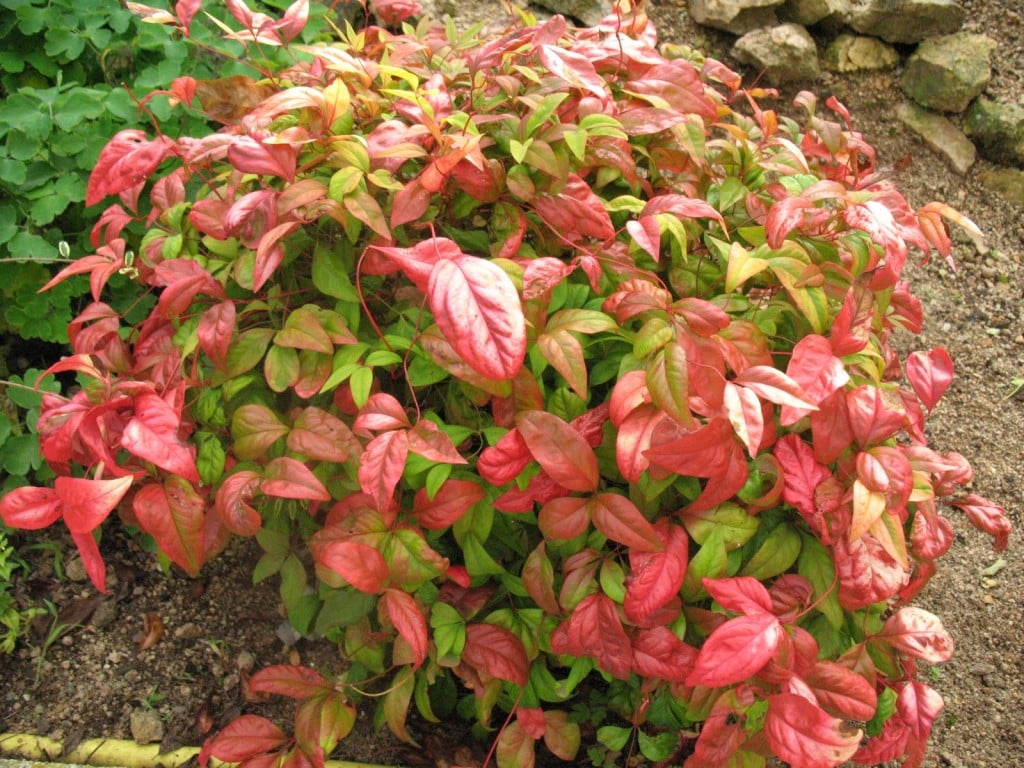 (Nandina domestica 'Nana Purpurea')
Nana Nandina is an evergreen shrub used for its compact growth habit with excellent yellows, oranges, and green summer-colored foliage. Nandina Nana also displays beautiful deep reds and burgundy colors in the fall. Growing to a height of 18-24" tall and wide. These plants require very little maintenance. They can be grown in containers or used as borders or compact hedges. Does best planted in full to part sun, will display its best color when planted in direct sunlight. Attracts butterflies, bees, and birds. Nana Nandina is very drought tolerant once established. This plant is insect, disease, and deer resistant.