Description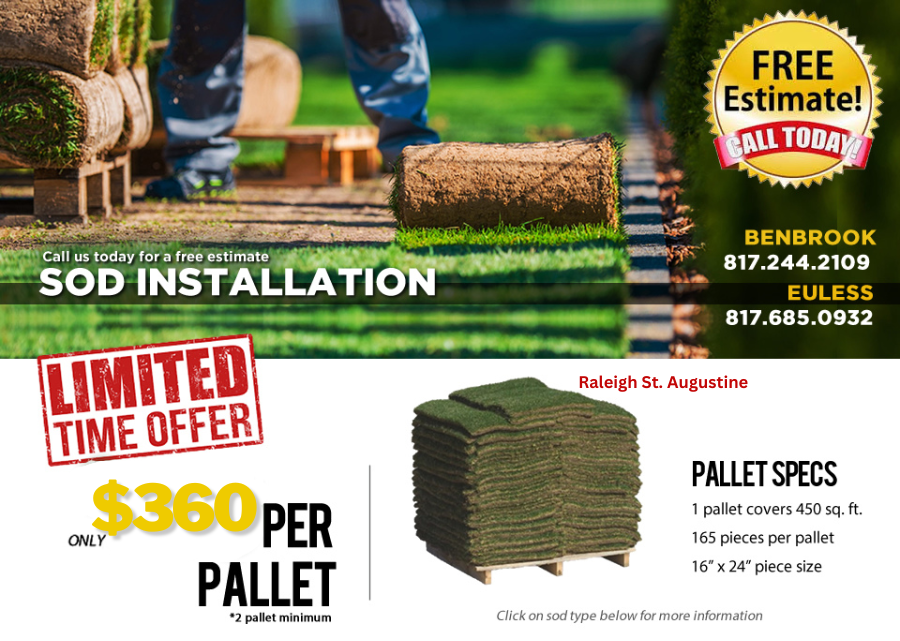 Raleigh St. Augustine Sod is a popular choice for lawns in the Dallas Fort Worth area. It is a cold-hardy grass that is resistant to a variety of diseases and pests. Raleigh St. Augustine has a deep root system, which makes it drought-tolerant.
Key characteristics of Raleigh St. Augustine sod
Lush Green Color. One of the standout features of Raleight Ste. Augustine is its vibrant emerald-green color, providing an attractive and inviting look to any landscape.
Shade Tolerance. In comparison to other warm-season grasses, Raleigh St. Augustine exhibits good shade tolerance making it an excellent choice for lawns with partial sun or trees.
Drought Tolerance. While Raleigh St. Augustine prefers moist conditions, it can tolerate short periods of drought without severe damage. Regular watering during dry spells will help maintain its vigor.
Heat Tolerance. Raleigh St. Augustine excels in high-temperature environments, keeping its lush appearance even during scorching summers.
Cold-Hardy. Raleigh St. Augustine can withstand temperatures as low as 15 degrees Fahrenheit.
Dense Growth. Raleigh St. Augustine forms a dense, thick turn that is resistant to weeks.
Easy to Care For. Raleigh St. Augustine is relatively easy to care for. It requires regular mowing, watering, and fertilizing.
Versatility. Raleigh St. Augustine Sod can thrive in a wide range of soil types, from sandy to clay, making it a versatile choice for various landscapes.