Early Spring Weed Control
Its February and that means its time to get a head start on early spring weeds. The best way to keep those pesky weeds away is by using a Pre-Emergent weed control. Weeds are grouped into two categories, either broad leaf or grassy type weeds.
Products such as Bonide Weed Beater Complete and Bonide Crabgrass & Weed Preventer provide excellent control of both weed types. A Pre Emergent controls unwanted weeds and grasses by targeting the weed seed just before or immediately after the seed begins to germinate. Hi Yield Turf and Ornamental Weed and Grass Stopper with Dimension is the leading Pre Emergent product and keeps weeds from germinating for up to 6 months. Herbicides listed as a Pre-Emeregent will NOT control existing weeds. For this you will need to ask for a Post Emergent controls. When using Pre-Emergent products be sure to read all labels for turf and ornamental applications. Pre-Emergent should never be used in areas where seed or bulbs have been or will be planted.
Bonide Weed Beater Complete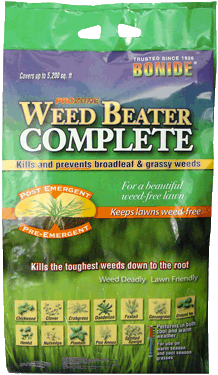 This product provides outstanding Pre and Post Emergent weed control of both grassy and broadleaf weeds. Bonide Weed Beater Complete works systemically through the leaves and down to the root system killing any unwanted weeds both before and after they emerge. This product is excellent for both cool and warm season weeds and should only be used on established lawns. Application should be made while the lawn is moist either in the early morning dew, after rain, or after watering. The product relies on moisture for the post emergent to work properly. Trimec is the active ingredient that sticks to the leaves of the weeds and then forces the plant to grow faster than its root system can support, thus killing the weeds. No irrigation or mowing should be done for 24 to 48 hours after application, be sure that rain is not in the forecast as well. 10lbs. covers up to 5200 sq.ft.
Bonide Crabgrass & Weed Preventer 
Provides excellent Pre-Emergent control of Crabgrass and many other annual grasses and broad leaf weeds. This product can be used in ornamental landscape areas as well as established lawns and ornamental turf. Bonide Crabgrass & Weed Preventer can be applied up to 4 weeks later than other Pre-Emergent weed controls. For best results this product should be applied to dry turf when minimal rain is expected. 12.5 lbs Covers up to 3500 square feet for the warm season grasses and up to 5000 square feet for cool season grasses. Bonide's product has double the active ingredient, dimension, as most other comparable pre-emergent weed control products.