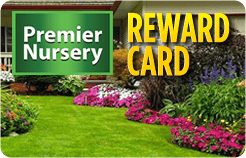 Are you a frequent customer at Premier Nursery? Sign up for our new Rewards Program today and save! Take advantage of great savings by joining Premier Nursery's Rewards Program. As a Rewards Member, you will enjoy members-only savings, as well as additional Benefits.
For Every 1,000 points, you will receive a $50 gift card.
Think of your purchases as an investment, and look forward to earning your reward every time you shop.
BENEFITS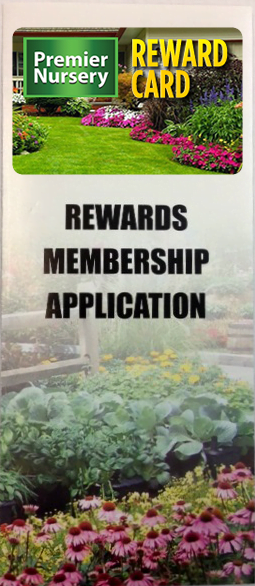 Special Discount Offerings
Web Specials
Rewards based on the frequency of Card use
Look for more Rewards to come
Just fill out the form below and click the submit button.
Premier Nursery Rewards Membership Guidelines
You must present your membership card at the beginning of checkout to receive credits toward your rewards
This is NOT a credit card
Premier Nursery reserves the right to alter or modify the practices and procedures of the Premier Nursery Rewards Membership program at any time without prior notification to participants
Points have no cash value. Cash will not be issued for unused portions of accumulated points. Merchandise purchased with points may be exchanged for merchandise only. Rewards will not be calculated on commercial landscaper quotes or any other wholesale discounted merchandise